Performance
Academic Performance 2016- 2017
End of Reception Data Headlines 2016
Children make exceptional progress in Reception and attainment is rising fast. The vast majority of children enter with skills and knowledge which are typically well below what is expected for their age, and now three quarters of them leave Reception at age-related expectations.

2015/16 initiatives have been highly effective and now most children achieve the age expected standard in areas of the curriculum that previously we obtained lower than average scores (writing and number).

Currently, pupils are making first rate progress throughout Nursery and Reception. Any child who joins the school below what is typical for their age catch up quickly, as a result of effective intervention..

Boys began their learning journey with significantly fewer skills than girls, however this gap closed during the year and there is little difference between the progress made by boys and girls.

Additional government funding for disadvantaged pupils is spent judiciously. Over the last three years, the gap has narrowed quickly. Although attainment is lower for Pupil Premium children than others, progress is first rate and provision is closely matched to need.
| | | |
| --- | --- | --- |
| RECEPTION | ACHIEVED THE EXPECTED STANDARD | NATIONAL |
| GOOD LEVEL OF DEVELOPMENT | 72.4% | N/A |
| EXCELLENT LEVEL OF DEVELOPMENT | 6.9% | |
In Foundation Stage2 or Reception we know:
Children in the Reception love attending school and they thrive. Their behaviour in class and at more unstructured times is good. They are eager to learn and want to please. They enjoy learning.

Teaching is highly effective. Excellent activities are provided to address identified areas for development.

The early years curriculum provides depth and breadth across all areas of learning. They provide interesting experiences for the children.

The quality of teaching in Reception is outstanding as a result of a vibrant curriculum, strong leadership and excellent transition.

Accurate assessment drives provision. Children are motivated and interested in a broad range of activities. As a result, all staff have very high expectations of the children and learning is well planned.

We have highly skilled, appropriately qualified adults working productively with children. All staff play an equal role in assessing children's progress.

Overall, the quality of the Early Years at St Mary's is grade 1 and continuing to improve.
Early Years Priorities for 2016/17:
Further narrow the gap between Pupil Premium/SEN children and other children, achieving a Good Level of Development.

Narrow the small gap between boys and girls achieving a Good Level of Development.

Develop the immediate outdoor environment to ensure further learning opportunities.

Continue to establish clear expectations, roles and responsibilities of all staff to ensure daily planned activities both indoors and outdoors.
Key Stage 1 – Headline Figure Analysis 2016
Pupils make excellent progress through the school from their different starting points when compared with other pupils.

The data supports the school findings that the vast majority of pupils in KS1 reach the national age related expectations in the all important Reading, Writing and Maths combined.

Reliable school assessment information and the work in pupils' books, indicate that all pupils are making excellent progress. This is consistent across subjects.

KS1 attainment is broadly average over time and rising fast.

At Reading 73% attained the standard with 20% above the standard; Writing is 70% (at) and 13% (above); Maths is 77% and 18%.

The test and curriculum for 2016 was significantly more challenging and the figures show equity with the 2015 Level 2b (expected) and Level 3 (better than expected) standard.

Whilst the attainment of the pupils who had special educational needs (4 pupils in Y2 in 2016) was lower than the rest of the class, all achieved well. This is as a result of receiving tailored, high-quality support in class and through additional specialist help when required.

The pupils who are eligible for support from the pupil premium funding (11) made excellent progress in all subjects. The majority attained the age expected standard. The pupil premium children pupils who did not attain the age expected standard still made very strong progress.

Pupil premium pupils achieved well as a result of the targeted support provided by the additional funding. Their needs are identified on an individual basis, and appropriate support is swiftly put into place.

Girls and boys achieved at a similar level in maths with most pupils attaining the age expected standard. Girls performed better than the boys at the higher standard in all three areas.
YEAR 2

ACHIEVED STANDARD SCHOOL

ACHIEVED STANDARD

NATIONAL

GREATER DEPTH SCHOOL

GREATER DEPTH NATIONAL

MATHEMATICS

76.7%

73%

16.7%

18%

READING

73.3%

74%

20%

24%

WRITING

70%

66%

13.3%

13%
Year 1
Pupils in Year 1 show a secure grasp of the principles of reading. Results in the national phonics screening check have been rising and are above the national standard for two of the last three years. Pupils have exceptionally positive attitudes towards reading and are encouraged to read for pleasure every day. They have regular time allocated group and individual reading sessions
We know:
Pupils are hard-working and make outstanding progress in lessons. This is evidenced by work in pupils' books and the school's tracking data for last year.

The school is confident that the quality of provision becoming consistently outstanding, highly effective measures are in place to ensure pupils are challenged to attain as highly as they can.

The impact of our work in 2015/16 has resulted in pupil premium pupils performing well and all children achieving their potential on the more challenging end of key stage assessments.
| | | |
| --- | --- | --- |
| YEAR 1 PHONICS | ACHIEVED THE EXPECTED STANDARD | NATIONAL |
| PHONICS | 76% | N/A |
| | | |
| --- | --- | --- |
| YEAR 2 PHONICS RE SITS | ACHIEVED THE EXPECTED STANDARD | NATIONAL |
| PHONICS | 66.6% | N/A |
Key Stage 1 Priorities for 2016/17:
Ensure all pupils are challenged and supported to achieve the age expected standard or better

Continue to develop the outstanding curriculum so that all pupils are excited and stretched by the expected work

Ensure that we eliminate the gap in performance to any pupil identified as disadvantaged.

Guarantee all disadvantaged pupils have access to a vibrant and exciting academic curriculum and wider school experience.

Introduce Read Write Inc to ensure more Y1 pupils pass the Phonics screening.
Key Stage 2 – Headline Figure Analysis 2016
KS2 outcomes for pupils are good. Since 2013 the attainment for pupils has been improving rapidly, it is above the national average in reading, writing, grammar, spelling and punctuation and mathematics.

The overall proportions of children reaching the expected standard in the all-important combined reading, writing and mathematics result is 14% higher than the national figure.

This is a significant improvement on the national because last year we were 8% higher.
Reading, writing and Grammar, Punctuation and Spelling are above national with Maths being 8% above.
| | | |
| --- | --- | --- |
| Subject % reaching expected standard | St Mary | National |
| Reading | 68 | 66 |
| GPS | 75 | 72 |
| Maths | 78.6 | 70 |
| Writing | 78.6 | 74 |
| RWM (Reading, Writing and Maths Combined) | 68 | 53 |
| Scaled scores | St Mary | National |
| Reading (avg scaled score) | 103 | 103 |
| GPS (avg scaled score) | 105 | 104 |
| Maths (avg scaled score) | 104 | 103 |
The school's 2016 results of the national tests for Year 6 show the school to be above the national average in reading, grammar, spelling and punctuation and mathematics. This is also the case for the combined subjects.

The percentage of pupils attaining a high score in reading, writing and maths combined is 7%. It is greater than this in individual subjects: Reading: 21%; Maths 21%; Grammar and Punctuation: 32%.

Progress across the school for all groups of pupils is good. It is significantly above average in all aspects.

Pupils' books demonstrate rapid improvements over time in reading, writing and mathematics.

From their starting points, pupils who have special educational needs make strong and sustained progress because of the excellent support they receive from staff.

The school's work to the close the gaps between disadvantaged pupils and their peers is highly effective. As a result, these pupils perform at least as well as other pupils nationally in all subjects. A significant number of Pupil Premium Pupils are low attaining SEN pupils too.

The most able pupils are challenged through precise and targeted teaching to make more than expected progress across all year groups in all subjects. Work in books reflects the high aspiration that staff have for their pupils.

Male and female pupils perform at a similar level. Girls overall, perform better than boys, however most of the pupils with special educational needs.

Teacher guidance is incisive and very detailed in showing pupils how to excel. Pupils are extremely well prepared for the next stage in their education.

Most pupils in all classes in KS2 are operating at age expected levels with a significant minority of pupils operating at a higher level than the expected for their year group. Virtually all pupils are making expected progress or better. Where they are not, it is as a result of a barrier to learning which the school is working with them to overcome.

The school ensures that each pupil is an articulate and well-rounded individual and as a result they are ready for their secondary schools.

11 of the 28 pupils in the class joined the school since Y3 of these a significant number were Pupil premium with special educational needs.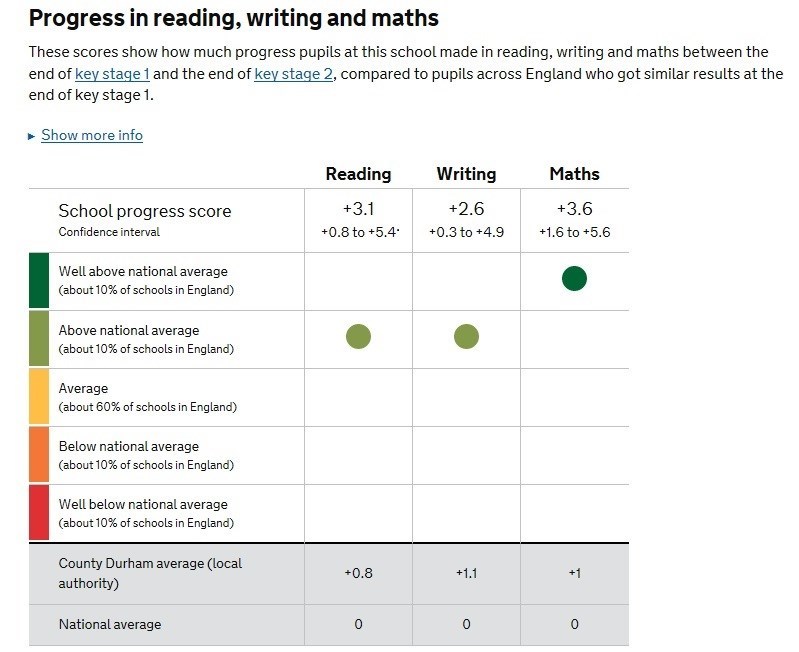 New key stage 2 assessments in 2016
The 2016 key stage 2 assessments are the first which assess the new, more challenging national curriculum introduced in 2014. New tests and interim frameworks for teacher assessment have been introduced to reflect the revised curriculum. Results are no longer reported as levels, and each pupil will now receive their test results as a scaled score and teacher assessments based on the standards in the interim framework.
School Data Dashboard link
The Data Dashboard provides a snapshot of performance in a school, college or other further education and skills providers. The dashboard can be used by governors and by members of the public to check performance of the school or provider in which they are interested.
The Data Dashboard complements the Ofsted inspection report by providing an analysis of performance over a three year period and comparisons to other schools or providers.
The dashboard is published in the Autumn term and is based on the results for the previous 3 academic years. The link below should take you to the most up to date version for the school.
School Performance Tables Website
The following link takes you to the performance table for our school
DfE School Performance Tables Website link.