Mini Vinnies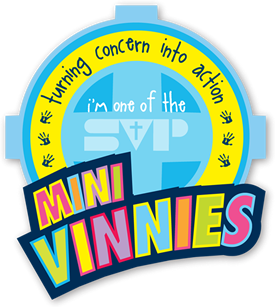 Here at St Mary's we are very proud to be part of the St Vincent De Paul - Mini Vinnies
You can visit the Mini Vinnies Here
Who was St Vincent De Paul?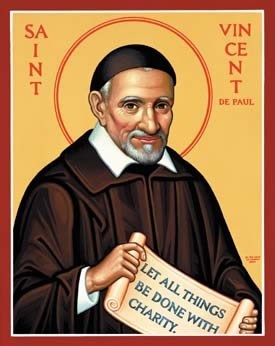 St Vincent De Paul was born in France on 24th April 1581. He became a priest and dedicated himself to serving the poor.
So what is the Society of St Vincent De Paul (SVP)?
The Society of St Vincent De Paul helps people who are facing problems such as:
Poverty: not enough money to pay for the basic necessities.
Hunger: some families have only one meal per day if they are lucky.
Unemployment: sometimes paretns have to go out each day and search for work.
No home or poor quality housing: some families of 8 or more live in one room.
No education: some families cannot pay for schooling or children cannot go to school because they need to work to help their parents feed the family.
To find out more about the Mini Vinnies please visit www.minivinnies.org.uk
Who are our Mini Vinnies?
Our Mini Vinnies are a group of children from Y2 and across Key Stage 2 who follow in the footsteps of St. Vincent in helping local charities and looking after other people in our school and church community.
Mini Vinnies
Y2: Sophie F & Oliver M
Y3: Heidi F & Sarah D
Y4: Maja C & Adam B
Y5: Jessica W & Robert H
Y6: Isobel M & Ebony C
As Mini Vinnies, the children have their own 'treasured' Prayer, Pledge and Badge, a dedicated website and a range of bright and colourful documents which guide them in their formative steps - helping and enabling them to become in every sense, young Vincentians - or 'Mini Vinnies'.
Our work at St Mary's is to promote awareness about how we can all make a difference to our school, local and global community.